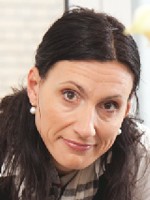 IVETA BALODE, STRATEGIC CONSULTANT
Iveta worked in journalism from 1992 to 2001. She began as a TV news reporter, then moved on to news producer and LNT (Latvian National Television) evening news main producer and announcer.
Up until the founding of the public relations agency IBKK, Iveta was an advisor to the RL Minister of Economics Juris Lujāns and the director of the marketing and public relations department of the Investment and Development Agency of Latvia (LIAA). Under LIAA's monitoring of the EU structural funds, she developed the first phase availability and awareness-promoting informative campaign in Latvia "Proti izmantot ES naudu!" (Learn to Use EU Money!). She personally developed the economic tourism sector's awareness-raising campaign "Latvija sagaida 2 miljono tūristu!" (Latvia Welcomes its Two-millionth Tourist!) and was a task group leader for the RL Ministry of Economics, the Latvian Tourism Development Agency (TAVA) and the RL Central Statistical Bureau of Latvia. She has developed the strategic concept and managed the realization of the RL Ministry of Economics and residing foreign ambassadors' forum "Ambassadors Forum Latvia for Partner".